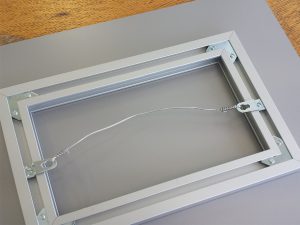 Aluminum "C-Bar" Rail Hanger:
This our most versatile option, made of high grade aluminium with a matte finish, the rails allow you to choose which hanging method is most suitable for your needs: An adjustable wire to easily hang from hooks or nails, or a metal cleat for more stability. Security screws can also be used in the channels to protect your art from theft.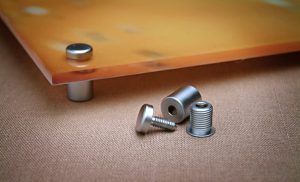 Standoffs:
Made of high grade aluminium with a clear anodized finish that brings elegance to your installation. Standoffs are easy to install and allows great flexibility to your installations. Cylindrical spacers float your artwork from the wall, and are not only durable but also add visual appeal.
French Cleats:

A popular and simple way to display almost any type of art. Sintra cleats mounted to the back of your art hold it securely to a corresponding cleat attached to the wall. Your art appears to be floating off the wall, creating the illusion of depth. The cleat hardware is securely hidden from view, so all you see is a magnificent finished piece.