Colorific has been a leader in large format and fine art printing in Vancouver for over 40 years. Since 1973 we have evolved from a traditional photographic lab into a full-service digital imaging centre. Our printing capabilities range from highly versatile UV-direct or solvent inks, to the exceptional quality of archival inkjet or truly photographic Lightjet. Combined with in-house custom mounting and finishing, the possibilities for your project are endless.
Colorific has worked with some of the world's largest organizations to create stunning custom signage and graphics, and our experience ensures projects of  any size are finished with the same attention to detail.
Whether it's working with leading design firms to outfit a new presentation centre with cutting edge graphics, or with an artist and gallery to produce one of a kind pieces of art, we have done it all.
See for yourself at colorificimaging.com!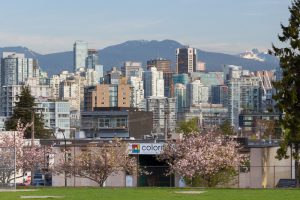 Mailing and shop address:
195 West 7th Avenue
Vancouver, BC V5Y 1L8

Open Monday – Friday (excluding holidays)
from 8:30am – 5:00pm
Tel: 604-879-1511
Fax: 604-879-6643
Email: info@colorificimaging.com